---
Around this time of year, you may wonder, if it's important to get the flu shot and if it's worth the hassle. Every doctor and nurse will say "Yes," but you may have doubts and questions about why it is so critical to get the flu shot every year. This blog will give you the facts to understand the need for the flu shot for you and your children.
Why is a Shot Needed to Protect Against the Flu?
The flu virus spreads easily and can be contracted within six feet of a person affected. Becoming sick with the flu can result in mild and severe cases. Mild cases may produce a low grade fever and severe cases could result in life threatening pneumonia. For example, the flu can be life threatening to young children and those with chronic medical conditions. Getting the flu shot can prevent you and your family from illness, and also from passing it to others.  According to the Centers for Disease Control and Prevention (CDC), you may be able to infect other people with the flu starting one day before flu symptoms appear to about seven days after becoming sick. This means that you are able to pass the symptoms to someone else before you even know you are sick. The flu shot is the ultimate protector in many ways. Here is how people are impacted by the flu: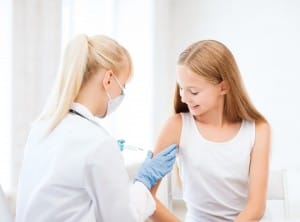 Babies under six months of age are too young for a flu shot and are high risk for complications from the flu.
Since the flu virus spreads easily, even healthy children (and adults) can become sick.
Young children (even healthy children) and pregnant women are at risk for serious complications from the flu.
People with chronic medical conditions such as asthma, diabetes or any disease that decreases their immune system can be at risk for serious complications from the flu.
Each flu strain is different and can range from a mild fever to life threatening pneumonia.
If you or your child is moderately affected by the flu and passes it to another child or adult, it doesn't mean they are moderately affected—they can become very ill. For example, what may be a moderate flu to you or your child may be a life threatening flu to someone else.
How Can I Protect My Family from the Flu?
Get the flu shot! This is the best thing you can do to protect your family during the flu season, which is around October to March. The flu shot doesn't just protect you and your family but also the people around you and your child's friends. It takes about two weeks for the vaccine to take effect and offer full flu protection. During the flu season, it is also important to teach your children how to properly wash their hands.
Who Should Not Get the Flu Shot?
There are some children who should not get the flu shot. In these cases, your child should be washing their hands and reduce their exposure to people who may be sick to decrease their chances of getting the flu. According to the CDC, those who should not get the flu shot are:
Children who have ever had a severe allergic reaction to the flu vaccine.
Children with a history of Guillain-Barré Syndrome (a severe paralytic illness, also called GBS). Tell your doctor if you or your child has been diagnosed with Guillain-Barré Syndrome.
Children who have had a severe allergic reaction to eggs. Make sure your healthcare provider knows about any allergic reactions. Most, but not all, types of flu vaccine contain small amount of egg.
Children who are moderately or severely ill with or without fever should wait until they recover before getting the flu vaccine. If you your child is ill, talk to your doctor about whether to reschedule the vaccination.
Can My Family Get the Flu From a Flu Shot?
According to the CDC, the flu vaccine can't cause flu illness, however, your child can experience mild side effects from the flu shot such as soreness where the shot was given, a low grade fever, and body aches.
Where Can I Take My Family to Get the Flu Shot
You can get a flu shot even if you don't have a regular doctor. Come to Atlantis Urgent Care located in Indian Harbour Beach, FL. Call us today at 321-777-2273 to schedule your 2018-2019 flu shot.
How Can I Prepare My Child for Shots?
The thought of getting a shot can be very frightening to a child. But there are ways to help your child overcome the fears. These two blog posts offer some helpful tips:
I hope this blog post makes you feel empowered to get flu shots for you and your family. Protection from illness is a priority and no one wants to get sick, especially during the holidays.  Please make an appointment to protect your family and many other families today.
---